Rib pains can be devastating. It can keep you uncomfortable. There is no pain like pain in the ribs. Acute rib pain can be incredibly severe. It can be described as a knife-like stabbing pain somewhere between or under the shoulder blades. Furthermore, the pain can be so intense that it is impossible to find a comfortable position. Pain can even make breathing difficult. There are different things that can cause rib pain but can bad posture cause pain in the ribs?
Just as I said in the previous paragraph, several conditions can lead to pain in the ribs. For instance, direct impact, cough, weight training or years of bad posture in front of a computer can cause acute, chronic or severe pain in the ribs. But in this article, we will focus on pain in the ribs that its cause is bad posture.
The Rib and Rib Pains
Pain in their upper back or chest could be due to their ribs. There is a general conception that the ribs are only present in the lower torso. Actually the rib cage extends from above the collar bones down to the level of the belly button.
There are 12 pairs of ribs that protect the lungs and heart. Another surprise for many people is that the ribs move constantly. Every breath, every twist, every bend, your ribs are flexing and moving. Unfortunately, this means that when there is a sprain on a rib joint, every one of these movements causes pain.
The ribs also play a vital role in breathing movements and are the source of attachment for many muscles.
In the upper and mid-thoracic spine, where most rib injuries occur, each has two joints with the spine. They also have a joint in front with the sternum. Between each rib is a muscle that can also be affected with rib dysfunction. This will cause radiating pain to the side and chest.
The majority of rib movement occurs at the joints between the ribs and the spine. It is at these little joints that injury can occur due to loss of normal movement or fixation in an abnormal (sprained) position. Chiropractors term this type of injury "rib dysfunction." But how can bad posture cause pain in the ribs?
Rib Pains
Not all pain in the ribs is felt in the back. The changed position and movement of the rib also affect the front of the rib cage. The pain can be felt in the chest or located in an area over the sternum.
The muscles between the ribs, the muscles above the ribs and the cartilage between the ribs and the sternum can become inflamed and irritated in this scenario. Pain can also be felt in both arms in a phenomenon called "referred pain."
Rib pain can extend from the breastbone through the chest, between the ribs, and under the breast. There can be pain on touch and pressure on the ribs, as well as when breathing, twisting or turning around in bed.
Severe rib pain that affects the side and front of your chest can be caused by inflammation of the nerves and muscles in the joints of the facets of the middle back, rhomboid muscles or ligaments between the shoulder blades or nerves. lower neck or middle back. It can be aggravated by inspiration, forced inspiration, cough, lifting, torsion or lateral flexion of the neck or spine and rib cage.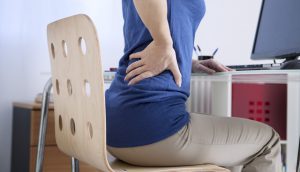 Maybe you have thought of it as stress and have taken medications such as muscle relaxants, gabapentin, amitriptyline or other addictive codeines, morphine-based medications that minimized the pain but made you unhappy, tired and weak.
Sitting over computers with a bad posture is by far the most common cause of chronic pain in the ribs.
Signs and Symptoms of Rib Pain
Pain in the side of the breastbone
The pain is acute and inflamed
Pain increases with cough or deep breathing
Severe, sharp and stabbing chest pain
Deep and painful chest pain
The pain worsens when you cough or laugh
Pain that extends around the chest wall.
Causes of Rib Pain
Overweight, gymnastic exercises and intense cough
Injury or impact on the chest
Osteoarthritis, rheumatoid arthritis, ankylosing spondylitis
Joint infections or shingles
Poor posture with a rounded and rigid middle back due to slouching over a computer
Having known a little about the rib and rib pain, let us now answer the question; can bad posture cause pain in the ribs?
How Can Bad Posture Cause Pain in the Ribs?
Bad posture is the most common cause of pain in the ribs. Our rib cage protects many important organs, supports the upper body and helps with breathing. That is why it is imperative to consult your doctor first to rule out any serious medical problems. Once you do this, then you consider some other things that could cause pain in the ribs.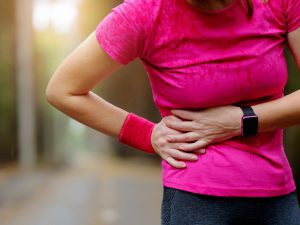 Most people who sit for long periods of time with poor posture can cause irritation in the joints of the ribs of the upper thoracic spine. They often develop a slouching posture that stresses the upper thoracic spine and ribs. Once these joints have suffered this minor trauma for a prolonged period of time, seemingly small aggravation can cause severe acute pain. Something as mild as coughing, sneezing, turning your head quickly or even sleeping awkwardly can cause this injury.
Continue reading "can bad posture cause pain in the ribs?"
You May Also Like
Can poor posture cause chest pain?
Rib dysfunction can cause pain in various places and intensities. The pain will often be felt under or between the shoulder blades, upper shoulder/neck, pain in the side, chest, difficulty breathing, tingling/burning in the back and chest, problems with shoulder movement and tingling/pain in the arms.
Certain factors may predispose a person to a rib injury. Often, chronic pain in the ribs will be seen in a person with a hunched posture and shoulders bent forward.
In addition, rib pain often follows years of poor rounded posture, where the middle thoracic spine becomes rounded (kyphotic) with the chest falling vertically from slouching on desks, laptops, and sofas. This rounded and kyphotic posture has become a tradition in the last ten years due to laptops, iPads and almost everyone working on computers in a bad posture. This bad posture can cause pain in Ribs.
Continue reading "can bad posture cause pain in the ribs?"
You May Also Like
Poor Posture Lower Back Pain – Their Ultimate Relationship through proven research
People generally try to stand upright by pushing the shoulder blades up and back and pushing or advancing the chin forward and upward. This not only seems completely ridiculous, but it puts enormous pressure on the muscles and ligaments that support the head and exacerbates muscle and joint pain in the middle back, chest, and neck. Scoliosis or lateral curvature of the spine further aggravates this stress and pain. You can learn the right way to stand upright here.
When chest pain becomes chronic, recurrent and long-term, treatment with analgesics, anti-inflammatory drugs (NSAIDs) or steroid injections into the vertebral joints is short-lived, very limited, and with side effects.
Diagnosis of Rib Pain
When talking to your doctor, describe the type of pain you feel and the movements that make it worse. The type of pain you feel and the area of ​​pain can help your doctor determine what tests will help them run the diagnosis.
If your pain started after an injury, your doctor may request an image such as an x-ray. A chest x-ray may show signs of bone fractures or abnormalities. Rib radiographs are also useful.
If abnormalities appear, such as abnormal growth on your x-ray or during your physical exam, your doctor will request a soft tissue image, such as an MRI. An MRI gives the doctor a detailed view of the rib cage and surrounding muscles, organs and tissues.
If you experience chronic pain, your doctor may request a bone scan. Your doctor will order a bone scan if you think bone cancer can cause pain. For this test, you will be injected with a small amount of radioactive dye called a marker.
Then, your doctor will use a special camera to scan your body for the marker. The image of this camera will highlight any bone abnormality.
Treatment of Rib Pains
It does not matter if it is a bad posture that is the cause of your rib pains. There are methods to treat any case of pain in the ribs. However, the recommended treatment for rib pain depends on the cause of the pain.
If the pain in the rib cage is due to a minor injury, such as a muscle pull or a bruise, you can use a cold compress in the area to reduce swelling. However, if you experience severe pain, you can also take over-the-counter pain relievers such as acetaminophen (Tylenol).
If over-the-counter medications do not relieve the pain of an injury, your doctor may prescribe other medications, as well as a compression wrap. A compression wrap is a large elastic bandage that wraps around your chest.
The compression wrap keeps the area firmly to avoid more injuries and greater pain. However, these wraps are only necessary in rare cases because the stiffness of the compression wrap makes breathing difficult. This may increase your risk of pneumonia.
Continue reading "can bad posture cause pain in the ribs?"
You May Also Like
If bone cancer is the cause of pain, your doctor will discuss treatment options with you based on the type of cancer and the origin of the cancer. Determining the origin of the cancer will tell your doctor whether it began in the rib and spread from there to other areas of ​​the body. Your doctor may suggest surgery to remove or biopsy any abnormal growth.
In some cases, surgical removal is not possible or may be too dangerous. In these cases, your doctor may choose to reduce them by chemotherapy or radiotherapy. Once the growth is small enough, they can be removed surgically.
Other effective methods to treat rib pain include:
Rib manipulation through specific and gentle manipulation to mobilize and normalize the function of the vertebral joint.
Cold laser, dry puncture, deep tissue massage, trigger point massage.
Medical acupuncture or therapeutic massage helps relieve chronic pain in the neck and middle back.
Corrective exercises to strengthen postural muscles to support proper biomechanics.
---
For the treatment of rib pain and other kinds of pain such as neck pain, upper back pain and headaches due to hunching over smartphones and computers, I recommend the Backpod. It is Ideal for costochondritis, chest movement, and perfect posture. Click on this link to get it.
You can also get the ZSZBACE Back Support Back Brace Support for Back Neck Shoulder Upper Back Pain Relief Perfect Posture Corrector Strap for Cervical Spine (M). This is purely for posture correction.
---
How to Prevent Rib Pain
You can prevent pain in the rib cage due to muscle tension or sprains by stretching the muscles, using the exercise equipment properly and staying hydrated.
If a disease causes pain in the rib cage, rest and follow your doctor's treatment plan. Self-care treatments, such as applying ice to wounds or taking hot baths to relax, can also help prevent pain.
When to See a Doctor
The pain in the rib cage can be evident without movement. You may also experience acute pain when you breathe or when you move to a certain position.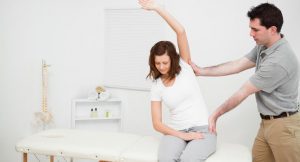 Contact your doctor immediately if you feel severe pain when you breathe or move your body to a specific position, or if you have trouble breathing.
If you feel pressure or pain in your chest with discomfort in the rib cage, call for help immediately. These symptoms may be a sign of an impending heart attack.
If you have recently fallen and have difficulty breathing, severe chest pain and bruising, also call for help immediately.
Conclusion and Recommendation
Bad posture can cause pain in the ribs. In fact, it is one of the common causes of pain in the ribs. This is because of the growing number of people with poor posture.
It is very important to work on your posture in order to correct it and to prevent rib pains that arise from bad posture.
Please visit your doctor first for a proper diagnosis before taking any action, even if you suspect that it is a bad posture that is the cause of the pain in your ribs.