The 6 Most Effective Crutches For Non-Weight Bearing
The severity of an injury determines the outcome that the patient must face. You may be required to avoid putting any pressure on the injured leg following leg surgery. A non-weight-bearing condition will necessitate the use of appropriate crutches in order to walk. These crutches will be your best friend during the treatment period.
When it comes to crutches, most people are perplexed. Durability, weight capacity, height, and other factors should be considered before purchasing a crutch. We have crutches for any condition, whether it's a broken foot, sprained ankle, permanent disability, or other injuries. This guide will assist you in selecting the best crutches for your specific condition. So choose the best crutches to meet your requirements.
Below Are The 6 Most Effective Crutches For Non-Weight Bearing
Best Part
Straps are completely adjustable.
Slip Resistant Vibram Tread
Ergonomic Knee Platform
Dual Density Pad
Quick Release Buckles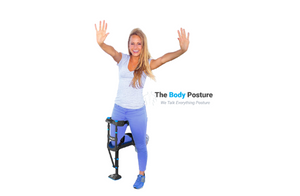 This brilliant and innovative design is here to make your life easier! The iWALK Hands-Free Crutch is an excellent replacement for modern crutches.
You can walk comfortably with your hands freely hanging with this device. It is better suited for injuries below the knee and people who are not significantly overweight. Before purchasing this crutch, you should double-check the requirements.
The iWALK is made of a strong material. It has a three-layer Ergonomic knee platform and a dual density pad.
The Non-slip vibram tread is easily replaceable, and the device can be assembled without the use of any tools. The straps are easily adjustable to fit your needs, and the buckles can be released with a single push.
Use this inventive design to reclaim your life, and don't let your injury hold you back.
Useful for:
Easy, quick and comfortable movement.
Hands-free operation to keep up with daily activities.
There is no armpit discomfort.
Simple to put together.
Not suitable for injuries above the knee.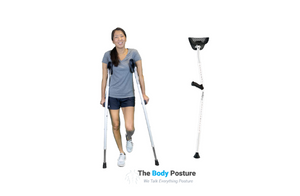 Best Part
Ergonomic Rubber Grips
Medical Grade Aluminum
Shock Absorbing System
Ergocap Tips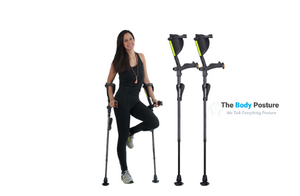 If you believe that regular crutches are not appropriate for you, you may prefer to use forearm crutches. The Ergobaum 7G forearm crutch provides everything you need and more!
This pair of crutches is made of medical-grade materials, ensuring a comfortable experience for a long time of use.
The Ergobaum 7G has padded cuffs with easily adjustable straps. The hand grips are made of soft rubber to keep your palms safe and comfortable. It is equipped with a shock-absorbing system that aids in movement to ensure optimal use. The tips are non-slip and secure High Performance Ergocap tips.
Unlike any other mobility-aid device, this one comes with a slew of accessories that can come in handy in an emergency. The built-in horn, flashlight, and knee rest gadget are all within easy reach. This crutch is completely adjustable, both in terms of cuff height and stick length, and it can also be folded for easier transportation.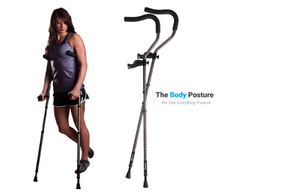 When a crutch is required for a non-weight bearing injury, underarm crutches are the most commonly used crutches. However, underarm crutches have come a long way since the days of the old wooden crutches.
They've also gotten some cool new features, such as collapsibility for easy portability. We found the In-Motion Pro Ergonomic Foldable Crutches to be the best underarm/collapsible crutch after reviewing several crutches.
The Millennial Medical In-Motion Pro crutch is a high-quality underarm/collapsible crutch with a number of useful features:
Tip aided by a spring
The crutch tips are articulating.
Folding capability and ergonomic handles
Heavy-duty construction with a user capacity of 500 lbs.
Pros
The crutches' high adjustability was praised by the majority of users.
People thought the crutches were great to use both inside and outside, easily handling hard surfaces and grass.
Users liked how the crutches folded up for easy transport.
Cons
Some users felt the crutches were too heavy to carry around, which made carrying them more difficult.
Others felt the ergonomic handles were difficult to get used to and may put extra pressure on your palms before you get used to using them.
The majority of users reported that the spring-assisted tips became noisy after prolonged use.
Injuries necessitating the use of crutches
Crutches assist you in regaining mobility and weight support while recovering from both short-term and long-term injuries. Crutches provide permanent mobility in cases of permanent disability. The following injuries necessitate the use of crutches:
Sprained ankle
Hip dislocation
Knee injury
Broken foot
Muscle strain
Broken ankle
Stress fracture
Achilles tendon injury
ACL injury
Other leg injuries
Other External Resources
https://helpmyfootpain.com/knee-walkers-vs-hands-free-crutches/
Related Article