How to wear the Evoke Pro A500 Back Posture Corrector
We all know that poor, uncontrolled posture can cause a number of problems, including lethargy, back pain, headache, and other severe problems like scoliosis, spondylolisthesis, and thoracic outlet syndrome. If not treated properly, these problems can lead to serious health problems.
Back pain from poor posture is the most common problem that affects people's backs. These problems have a simple solution: use a posture corrector. This device works by keeping the back straight and avoiding shrinking, which is the main cause of back problems.
There are many posture correctors available in the market and choosing can be a daunting task. Among the many options available, the Evoke Pro A500 stands out as one of the best posture correctors you can find. Read on to find out if this product will work for you.
Evoke Pro A500 at a glance
The Evoke Pro A500 posture corrector is one of the most reliable names when it comes to posture correctors. It is one of the best products that offers you an excellent range of useful features and benefits.
It is a product known to overcome the problem of sensitivity in the neck and shoulders and adopt a correct posture. In addition to correcting body posture, this product improves breathing and ensures perfect alignment of the body.
One of the best things about the Evoke Pro A500 back posture corrector is its discreteness. It is not as bulky as many other similar products, which makes it ideal for use under clothing and for your daily activities.
Design: A figure-eight Design that works perfectly.
The design is a figure-eight design. This aids in the even distribution of pressure between the shoulder blades for more comfort and efficiency.
It is roughly the size of the back of a sports bra, which makes it easy to hide in an office or anywhere. The compact construction of Figure Eight has flexible, adjustable straps that make it easy to put on, just similar to putting on a backpack.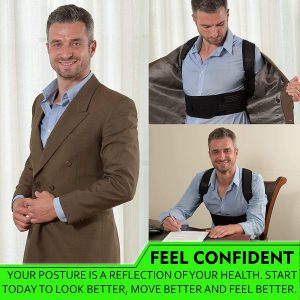 Once you put it on, you can easily adjust the underarm hook and loop straps for a snug but comfortable fit. The straps that tighten the posture corrector pass under the shoulder and go towards the front (and to the back if necessary).
One of my favorite things about this brace is the padding. From the straps to the back clip, everything is lightly padded, which makes it comfortable.
Furthermore, its unisex, and fully adjustable design makes it easy to use and offers you great comfort. The durable and comfortable design of this back support brace provides the necessary support and relief from any type of sprain.
Evoke Pro A500 is designed to come with velcro straps that facilitate tension adjustment and the fitting of the brace. This product straightens your back, relieves back pain, and makes you feel safer. The fabric used crosses the back with additional padding on the straps under the armpit area. This additional padding minimizes discomfort and guarantees the free movement of the arms.
Additionally, it is available in two sizes, including the extra-large, making it perfect for virtually any body size. Therefore, if you make use of this brace you will feel that much-needed comfort.
---
Continue reading The Evoke Pro A500 posture corrector review
Related: Comfymed posture corrector review
The Evoke Pro A500 has an Impressive build quality
Build quality is one other strength of the Evoke Pro A500. It is made of high-quality material that is flexible and durable for longevity. The flexibility also makes it an easy fit for many people without being too loose or too tight. These features make it an attractive investment as it is also reasonably priced at just over $30.
Evoke Pro has been on the posture correctors market for some time. Before the Evoke Pro A500, it had a predecessor called the Evoke Pro A300. The latter was also a good product, but its successor came with a few updates. The Evoke Pro A500 includes stiffness controls and a central gear module. These two characteristics make it more effective in keeping your back in place while allowing additional mobility.
The only cause for concern when using the Evoke Pro is the friction against the skin in the area under the arm. Dealing with this problem is easy. You can add a cushion layer or adjust the Velcro strips until it disappears. Additionally, not all users will experience this problem given the additional measure in the design of the posture corrector to protect the area under the arm.
Why go for the Evoke Pro A500 Posture Corrector
The posture corrector was designed by world-renowned chiropractors who are experienced in their work. Therefore, there is no need for problems or concerns, just trust the product and enjoy your comfort and responsibilities.
This ideal posture corrector has an eternal effect and pushes your muscles to be more active and forces your spines to retain better. It is one of the best selling products and comes with a lifetime warranty.
In your busy daily schedule, going to physiotherapy or paying attention to sitting up straight can be a tedious task. Here, an effective posture corrector is a perfect solution for anyone looking for correct posture and trying to get rid of all these problems and live a comfortable life without fatigue or pain.
Therefore, the purchase of this posture corrector to improve posture will not disappoint you.
Advantages of the Evoke Pro A500
Discreet
Comfortable. It is flexible enough for free movement. He has pads under the armpits to prevent bruising and irritation. The material is neoprene, which facilitates its use and comfort.
The evoke pro posture corrector is elegant and light, offering you all-day comfort.
High-quality fabric.
High adaptability. The product comes with a highly adjustable design.
Affordable
Boosts Confidence
Includes an additional latex-free elastic band to help you build stronger back muscles and regain flexibility.
Boosts your confidence:
Everyone knows very well why we need a support brace. In today's world, one in two people suffers from poor posture or back and shoulder pain.
The poor and inadequate back posture/structure lowers your confidence level, making you feel very weak and lazy, and for all these problems, the best posture corrector is the best solution.
I would say one thing if you suffer from poor posture or the problem of low confidence then you should try the Evoke Pro A500 posture corrector because the posture brace is designed correctly. It lifts your back to give it the right shape. And, I'm absolutely sure that after using this posture brace yourself, you will see a surprising improvement in your back posture. And then, you will feel how more confidence contributes positively to your personality.
The incredible comfort:
When talking about the posture corrector that we will use for hours or sometimes throughout the day, the level of comfort is one of the most important things that we should consider properly. Because that is what makes a device better than the other options available.
And the Evoke Pro A500 posture corrector has just been designed with a slim and sleek design, so you can wear it easily under and on clothes as you like, and believe me, no one can realize that you are using something to correct your posterior posture.
Elegant and light, the Evoke Pro A500 back support can be worn over or under clothing. The ergonomic design fits comfortably on your body, while the ARMPIT pads prevent bruising, chafing, and irritation in the critical underarm area.
High quality and durable material:
Now let's talk about one of the most important and amazing things about Evoke Pro A500 Posture Corrector –  the high-quality material used in the manufacture of this product.
With the Evoke Pro A500 posture corrector with strong padded straps, metal supports, and breathable fabric, this rear posture support is one of the best posture correctors on the market because it is made with the highest quality fabric and other materials.
Therefore, just because of the high-quality material, the product is completely durable and flexible so that you can use it for a long time. And because of the incredible flexibility, it can easily adapt to you and adjust your poor posture.
Disadvantages of the Evoke Pro A500
It can be uncomfortable for some people under the armpits.
Having checked out the review of this back brace support and have seen that the pros clearly outweigh the cons, I think it will be a good buy for you.
You can get this amazing product from Amazon here.
You can also check out this other amazing posture corrector by Evoke pro in the video below. It comes with a resistance band.
Conclusion
So is the Evoke Pro 500 good for your back? Considering all the benefits, the chances of this product failing are slim.
I have shared everything about this posture corrector, and I think there is nothing more to share with you, I would like to say one thing: the product has everything you could need or expect from an ideal posture corrector.
You can buy this product, and I can assure you that you will never see any compromise in terms of quality and comfort as it has the potential to give you the best experience of wearing a brace.
However, it would be wise to check with your doctor before purchasing a posture corrector. Discuss in detail any back problems you may have. If your doctor recommends a posture corrector as a solution, Evoke Pro may be just what you need.