If you are here, then you are probably wondering how to keep a straight posture. Well, I have great news for you! You have come to the right place. In this article, we have made a comprehensive list of how to keep a good and of cos a straight posture.
We all know that good posture is crucial for good health. We recognize a bad posture when we see it form as a result of bad habits over the years. This is evident in many adults. But only a few people have a real understanding of the importance and the need for good posture.
So what really is posture? We will answer that in the next section.
What is Posture?
Posture is the position in which we keep our bodies when standing, sitting or lying down. Good posture is the correct alignment of body parts supported by the correct amount of muscle tension against gravity. Hence, without the posture and the muscles that control it, we would simply fall to the ground.
Normally, we do not consciously maintain a normal posture. Instead, certain muscles do it for us, and we don't even have to think about it. Several muscle groups, including hamstrings and large back muscles, are of crucial importance in maintaining good posture. While the ligaments help keep the skeleton together, these postural muscles, when they work properly, prevent the forces of gravity from pushing us forward. Postural muscles also maintain our posture and balance during movement.
Continue reading to know how to keep a straight posture
You may also like
Benefits of Having a Straight/Good Posture
The benefits of having a good posture cannot be overemphasized. Good posture helps us stand up, walk, sit and lie down in positions that exert the least amount of pressure on the muscles and supporting ligaments during movement and weight-bearing activities. Good posture helps keep bones and joints in proper alignment so that our muscles are used properly, which decreases abnormal wear on joint surfaces. Also. it reduces stress in the ligaments that hold the vertebral joints together, thus minimizing the probability of injury. Additionally, it allows the muscles to work more efficiently, allowing the body to use less energy and, therefore, prevent muscle fatigue. Lastly, it helps prevents muscle fatigue, excessive use disorders and even back and muscle pain.
To maintain good posture, you must have adequate flexibility and muscular strength, normal joint movement in the spine and other areas of the body, as well as effective postural muscles that are balanced on both sides of the spine. In addition, you should recognize your postural habits at home and at work and work to correct them, if necessary.
Continue reading to know how to keep a straight posture
You may also like
On the other hand, bad or poor posture can cause excessive tension in our postural muscles and can even make them relax when they are held in certain positions for long periods of time. For example, you can usually see this in people who lean forward at the waist for a prolonged period in the workplace. Your postural muscles are more prone to injuries and back pain.
Several factors contribute to poor posture: more frequently, stress, obesity, pregnancy, weak postural muscles, abnormally tight muscles, and high heels. In addition, reduced flexibility, poor work environment, improper work posture and unhealthy habits of sitting and standing can also contribute to poor body position.

Given the current dependence on technology, it may be more important than ever to ensure proper alignment and know how to keep a straight posture.
Here is a guide to help you adopt good posture habits in five common scenarios.
How to Keep a Straight Posture
For you to know how to keep a straight posture, you must understand that there are about five different scenarios to be mindful of
Sitting Down
Standing
Lying Down
Lifting
Driving
1. Sitting Down
If you have an office job, sitting in the right position all day can be difficult. There are real posture challenges due to text messages, time in front of the computer and too much sitting.
At your desk, it is important to keep your back straight and prevent your shoulders from moving forward. You want your weight distributed evenly while keeping your feet flat on the floor.
Follow these simple tips to make sure you keep a straight posture
Make sure the height of your chair is adjusted so that your knees bend at a natural angle of 90 degrees. Crossing your legs can make your back pain worse.
People with back pain should use an ergonomic chair for most of the workday. You adjust the back of your chair to support the lower and middle part of your back or use a backrest. However, an exercise ball can be an effective tool to break the bad practice of the prolonged sitting session but do not use it for more than 30 minutes at a time. In addition, sitting on an exercise ball can activate the trunk muscles, so that helps stabilize the spine.
Standing desks can be used to interrupt long periods of sitting. However, it is recommended not to stand for more than 30 minutes at a time to avoid fatigue and worsening of symptoms.
Keep your feet on the floor or on a footrest if they do not reach the floor.
Keep a small space between the back of the knees and the front of your seat.
The knees should be at or below the hip level.
Relax your shoulders and keep your forearms parallel to the floor.
2. Standing
Gravity is a fact of life, and it is certainly natural for a person to slouch. We allow our bodies to lean forward and hunch over especially when we are busy and tired.
However, it is still important to maintain good posture while standing so use these tips to know how to keep a straight posture while standing.
Try to keep your weight on the soles of your feet, your knees slightly bent and your feet placed a shoulder-width apart.
Your arms should hang naturally by your side, and keep in mind that when you stand correctly, your legs should be straight but not locked.
Push your feet into the floor and lengthen your spine. Your head, shoulders, hips, and knees should be aligned.
Stand straight and tall with your shoulders back.
Tuck in your stomach.
Keep the head level: the earlobes should be aligned with the shoulders. Do not push your head forward, backward or sideways.
Change your weight from toes to heels, or from one foot to the other, if you have to stand for a long time.
3. Lying Down
It is true that everyone loves a good sleep. However, you must take note of these points if you want to know how to keep a straight posture even when you are lying down.
Find the right mattress for you. While a firm mattress is generally recommended, some people find those softer mattresses reduce back pain. Your comfort is important.
Sleep with a pillow. Special pillows are available to help solve postural problems that result from a bad sleeping position.
When lying down, avoid lying on your back with your head tilted at a wide-angle on a pillow, as this puts excessive pressure on your neck and shoulders. Instead, place pillows behind your back for a little support.
Bend your legs and place a pillow under your knees.
Sleeping on your back is better, but only 8% of the population chooses this option. No additional pressure is applied to your head, neck, and spine when you lie on your back, with your head slightly raised to align with the rest of the body.
Avoid sleeping on your stomach.
Sleeping on your side or on your back is usually useful for back pain. If you sleep on your side, place a pillow between your legs. If you sleep on your back, keep a pillow under your knees.
4. Lifting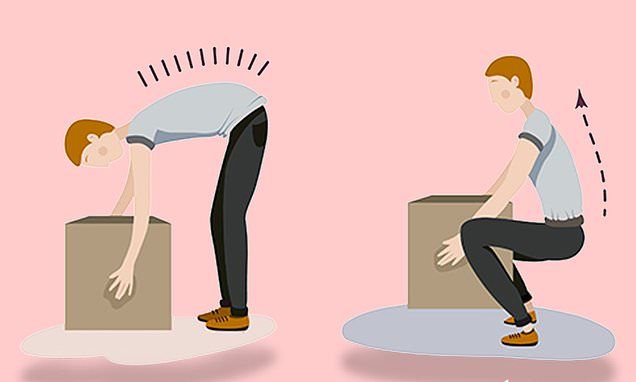 As strange as this may sound, if you must know how to keep a straight posture, then you must know how to lift loads the right way. Here are some simple tips.
The key to preventing injuries when you get up is to reduce the pressure on the spine. This can be achieved by;
Maintaining an upright posture and bending the knees and hips while squeezing the abdominal muscles to lift heavy objects. While it may seem that you should bow down and lift your load, resist that impulse.
Get as close as possible to the load, since being close to the object will exert less force on your lower back.
While bending down to lift it, stand straight and resist the temptation to bend your load.
Tighten the stomach muscles. Do not hold your breath. Put your legs to work and lift with them. When moving the load, be sure to turn it with your feet, but not with your back.
5. Driving
The driver's seat in many vehicles can be difficult because it is molded in a way that can make it impossible to sit upright. However, you should try to sit as straight as possible while driving.
Place a lumbar pillow in the lower back if you feel comfortable. Place the seatback in a way to support a high spine, not too close to the steering wheel so that the arms can move easily and not compress the shoulders together.
Always position the seat so that your knees are higher than your hips and adjust the lumbar support of the car so that it rests on the curve of your back.
Stretching can help reduce pain, stress, and fatigue in the lower back, especially when you are stuck in traffic. A simple stretching exercise is to rotate the trunk to one side for five seconds while keeping your back straight and then turn to the other side. Another good exercise is to turn your back in front of the seat for five seconds, then slowly turn your back towards the seat and hold it for five seconds. "These exercises can be repeated several times when you are sitting in heavy traffic.
Summary and Recommendation
Keeping a straight posture is necessary for maintaining good postures. Therefore, it is very necessary to know how to keep a straight posture. That is why this article has been written.
Therefore go ahead and put everything you have read in practice. Practice how to sit, stand, lie, lift and drive properly. This will help you in correcting those bad postures that you have and help you keep a straight posture.