Top 5 Benefits Of An Ergonomically Designed Chair: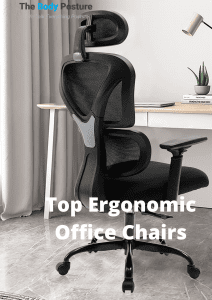 Do you have a job that requires you to sit for 7 hours or more per day? Whether you work from home or in an office, you may have noticed that sitting for seven or more hours a day without a good chair for proper posture can be very uncomfortable! Investing in a good ergonomically designed chair can be extremely beneficial to your health and contribute to your overall work success.
Are you aware of the advantages of Ergonomic Chairs? They've been getting a lot of press lately, and for good reason. Working long hours at a computer or on paperwork can be taxing on your body. Back pain, carpal tunnel syndrome, headaches, and neck or shoulder stiffness are all possibilities. It is critical to ensure that your working environment is health-friendly.
If you have a computer, you must have an Ergonomic Chair. That's right if you spend the majority of your day sitting at a desk, that's time you should be investing in your body's health. A good ergonomically designed chair can improve your body's health and help you live a longer life!
Most people spend more time sitting than sleeping, but they still do not value their chairs as much as they do to their mattresses. Investing in an Ergonomically Designed Chair has been shown to significantly improve the way you work and feel, from reducing back and joint pain to increasing productivity.
In this article, we will take you through the Benefits of an Ergonomic Chair, Good Sitting Posture, Bad Sitting Posture, How to Sit Correctly at Your Desk (Good vs. Poor Sitting Posture), what makes a good Ergonomic Chair, the Importance of an Ergonomic Chair, How to Sit at Your Desk (Correct Desk Sitting Posture), and the Advantages of an Ergonomically Designed Chairs.
Below is the list of Top 5 Benefits Of An Ergonomically Designed Chair:
1: High Productivity and Good Quality Of Work
Ergonomic chairs provide a well-designed workspace to improve productivity and work quality in offices where employees spend a lot of time sitting at a desk.
Several studies have found that using ergonomic chairs can help improve goal achievement and employee satisfaction.
The University of Leicester's sedentary behavior research team spent a decade examining the health effects of prolonged sitting, with team leaders Doctor Charlotte Edwardson and Professor Thomas Yates.
Their study found that people whose jobs required them to sit for long periods of time were more likely to develop chronic diseases such as diabetes and cardiovascular disease, and they lived shorter lives than other participants.
Replacing traditional chairs with ergonomic chairs improves not only job performance and work quality, but also overall quality of life, ensuring that your employees can live long and fulfilling lives within your organization.
2: Comfort
Ergonomic chairs are created with the user's comfort in mind.
We recommend trying out a new chair for at least a day before committing to a purchase, especially if you plan to buy in bulk for your employees.
Adjustability is the key to comfort.
Ergonomic chairs are made of higher-quality materials than standard chairs, which contributes to their comfort.
Employees who work long hours in traditional office chairs waste time shifting around their workstations, focusing on discomfort rather than work.
The seat and back of ergonomic chairs are contoured to improve the comfort of its users.
As a result, most organizations use ergonomic chairs to keep their employees comfortable and productive.
However, you should be careful not to become overly comfortable in your new ergonomic chair, as experts still recommend taking a 30-minute break from sitting.
3: Adjustability
The adjustability of ergonomic chairs is an important feature.
People of all sizes, weights, shapes, and work styles can be found in any organization, making a "one size fits all" mentality impossible to implement.
Ergonomic chairs can be customized with desired features to keep everyone comfortable and focused on their work. The most common adjustable features in ergonomic chairs, for example, are seat height, armrests, backrests, and seat depth.
Employees can keep their feet firmly on the floor by adjusting the seat height, armrest adjustments support the weight of the arms, backrests relieve pressure on the muscles and spine, and seat depth supports the thighs. These features enable every employee to contribute to a company's success without distraction.
External factors, such as chair limitations, can lead to an unpleasant experience when working for an extended period of time.
4: It Helps You Concentrate
This is a fairly simple concept—if you're less stressed, it will be much easier to focus, and if you can focus more, you'll be able to get more work done. According to a study conducted by the Washington State Department of Labor and Industries, workers who switch to ergonomic office furniture experience significant reductions in absenteeism, error rates, and work submission timeliness. So, whether you're an employee or an employer, ergonomic chairs will help you improve your productivity. And, with all that extra time on our hands, we might be able to spend less time at our desks.
5: Suitable For All Body Types
Today's commercially available office chairs for various body shapes and sizes can be bewildering.
Ergonomic chairs, on the other hand, have a plethora of customizable features that can be tailored to almost any workspace and body type.
An ergonomic chair is designed to conform to your body type and accommodate the various activities you might do at your desk. Some of the ergonomic chair's adjustable components are as follows:
Height modification
Arm width can be adjusted.
Arm height can be adjusted.
Seat pan repositioning
Headrest can be adjusted
Adjustment of tilt tension
Tilt locking mechanism
All of an ergonomic chair's adjustable features can help you tailor the chair to your specific body type and working preferences.
For example, if you have a small frame, an armless ergonomic chair with a small seat and a high back can help you maintain a natural posture while remaining close to your desk.
If you are tall and thin, an ergonomic chair with full back support and adjustable seat sizes, back angle tilt, armrests, and seat depth can provide a comfortable space for your long legs while also encouraging better posture.
Proper Sitting Posture:
Correct posture implies that a person's body is properly aligned and that all muscles are evenly supported with the least amount of strain. Here are a few examples of good ergonomics when sitting:
Straightening up and looking forward without straining the neck (your buttocks should touch the back of your chair).

Keep your knees parallel to the floor and bent at a right angle (do not cross your legs).

Leave a small space between the back of the knees and the chair.

Hold the elbows at the sides and form an L-shape with the arms.

Spread your body weight evenly across both hips.
Inadequate Sitting Posture: (Poor Sitting Posture)
Poor sitting postures include any positions that put a strain on your muscles, ligaments, or tendons. Certain sitting positions are worse than others and may be harmful to one's health. The following are some examples of poor ergonomics that must be corrected:
Long periods of neck squeezing while staring at a monitor.

Sitting slumped against a chair, spine bowed.

hunching forward with the shoulders slouched.

Sitting in a position that does not provide adequate support for the back, particularly the lower back.

Allowing the knees, ankles, or arms to dangle without support.
How to Sit Correctly on Your Chair (Good vs. Poor Sitting Posture)
It is critical to prioritize healthy sitting habits to avoid a variety of health problems. Tension or pain in the neck, back, knees, hips, and poor blood circulation are the most common problems that result from sitting in poor sitting postures for long periods.
Meanwhile, what exactly is a bad sitting posture? What constitutes a good one? How can I sit comfortably and correctly at my desk for an extended period? What is the proper desk posture?
How to Sit at Your Desk (Correct Desk Sitting Posture):
The three main tips for quickly improving your posture while sitting at your desk, are as follows:
Back support:
Adjust your chair so that your lower back is properly supported to reduce your risk of back pain. This entails purchasing a chair that is easily adjustable in terms of height, back position, and tilt. Your knees should also be slightly lower than your hips.
Adjust your chair as follows:
Adjust the height of your chair so that you can use the keyboard while keeping your wrists and forearms straight and level with the floor. This can aid in the prevention of repetitive strain injuries. Your elbows should be on the side of your body, forming an L-shape at the elbow joint.
Your arms will be gently resting on the chair, and your shoulders will be relaxed.
Allow your feet to rest:
Put your feet flat on the floor. If they aren't, add a footrest that allows you to rest your feet comfortably. Do not cross your legs, as this may contribute to posture issues.
What Characteristics Characterize an Ergonomic Chair?
Ergonomic chairs are custom-made to fit your body and allow you to sit comfortably for extended periods. As a result, they are ideal for both office and home use.
When deciding on the type of (ergonomically designed chair) that is best suited to your needs, it is critical to consider several factors. The following are the primary features of an ergonomic chair that should be considered when purchasing:
Height of the seat:
The seat height of an office chair should be easily adjustable. Most people should be able to tolerate a seat height ranging from 16 to 21 inches off the floor. This allows the user to sit with his or her feet flat on the floor, thighs horizontal, and arms at the same height as the desk.
Seat width and depth:
The seat should be wide and deep enough to accommodate all users comfortably. Everyone is unique; we all have different heights and body shapes. Shorter people tend to perch on the front of the seat, receiving no support from the backrest and tilting their bodies forward unnaturally.
Furthermore, if you are short in the thigh, you will need to reduce the seat depth to reach the backrest and relieve pressure on the back of your thighs. Seat depth adjustment will allow you to properly support your thighs if you are tall in the thigh.
Lower back support is critical in an ergonomic chair. The lumbar spine has an inward curve, and sitting for long periods without support for this curve causes slouching and strains the lower spine structures.
A good ergonomic chair for correct posture should have lumbar adjustment so that each user can get the proper fit to support the lower back's inward curve.
Here are related articles
Sihoo Ergonomic Office Chair – My Honest Review
Perfect Posture in 5 Steps (BAD POSTURE BUSTER!)
Armrests:
Armrests are especially useful when a person is typing or moussing. Armrests support the weight of your arms, removing the need for shoulder and upper arm muscle work. Adjustable armrests allow you to move the armrest up and down vertically to position it at the proper distance from your body.
Close-to-the-body armrests can help prevent splayed elbows, which cause the wrists to bend to the side during activities like keying.
An ergonomic office chair's backrest should be 12 to 19 inches wide. It should be able to support the natural curve of the spine, with special attention paid to proper lumbar support.
If the seat and backrest are one piece, the backrest should be adjustable in forwarding and back angles, with a locking mechanism to prevent it from moving too far backward.
Any traditional or ergonomic chair for proper posture should be easily rotated so that the user can reach different areas of his or her desk without straining.
Material for the seat:
The padding on the seat and back of the office chair should be sufficient to allow you to sit comfortably for extended periods. It is preferable to use a cloth fabric that breathes.
Reasons Why You Need An Ergonomic Chair In Your Office
Improves Posture
If there is one thing you should be concerned about after sitting for long periods, it is your posture. You've probably noticed that when you're sitting in a regular chair that lacks basic ergonomics, you tend to lean forward because the back isn't at the proper height.
That is one flaw that the ergonomic chair corrects. With its full-length design and support for natural posture, you can be confident that the chair will help you improve your posture.
Pain Reduction
Lower back and neck pain are two of the most common types of body pains experienced by office workers. This is usually because the design of traditional chairs does not allow them to sit for long periods while maintaining proper posture.
The ergonomic chair, on the other hand, promises better relaxation and reduced body pains because those important pain points are properly supported.
Maximum Security
The fact that ergonomic chairs are ideal for office workers was not discovered by chance. Rather, the chairs have been lab-tested and certified to ensure the maximum safety of the users.
Long-Term Application
Because the ergonomic chair is intended for long-term use, you are confident that you will not need to make additional purchases.
If it breaks down for any reason, you can always use the warranty to have it repaired or replaced at a reduced price.
Adjustability
The office furniture you select must be flexible enough to meet the needs of each individual in your office. Employees come in all shapes and sizes, and investing in furniture that can be adjusted to your employees' specifications can help keep everyone in the office comfortable and focused on their work.
Increased Productivity
The right office chair can have a significant impact on the lives of your employees. Several studies have found that choosing office furniture that is both ergonomically designed and comfortable can have a significant impact on employee happiness as well as productivity.
Enhanced Blood Circulation
Researchers discovered that sitting for an hour increases the risk of depression, heart disease, poor blood circulation, and back pain in a study published in Circulation in 2010. We recommend that people keep track of how long they sit and try to change positions every 30 to 45 minutes.
According to the American Heart Association, any movement that raises our metabolic rate above the normal stationary resting rate (sitting) can have significant long-term health benefits and reduce our risk of those frightening diseases and illnesses.
Designed for Everyone
There are no limits to what users stand to gain from using an ergonomic chair, and with so many task chairs available today in a variety of shapes and sizes, there is a chair that will fit your workspace and body type.
Whereas more specialized chairs are designed to support a specific part of the body, task chairs are adjustable and designed to accommodate a wide range of body types. As a result, they are frequently found in shared workspaces.
Similarly, you shouldn't have to make too many adjustments each time you sit in one. A good task chair is naturally adaptable.
Conclusion
Ergonomic Chairs align your shoulders, spine, and hips, reducing stress on your body and preventing unhealthy postures. These chairs allow you to achieve comfortable postures at your workstation while avoiding lower back pain.
Whether you're looking for a stylish accent chair to add extra seating to your living room or a comfortable reclining chair to relax after a long day, we've got the perfect chair for you. Recliner chairs are the ultimate in relaxation. They allow you to easily adjust your seat's angle and height, including stretching out your legs.
When choosing a recliner, consider how much space you have in the room and your preferred sitting position.
If comfort is important, look for features that add extra padding and support. Memory foam cushions will perfectly conform to your body shape for added support, while gel-infused foam will help keep you cool during hot summer days. If you need neck support, an adjustable headrest can be a lifesaver, allowing you to customize its height and angle so it cradles your head and neck perfectly. We believe now you can make your decisions on purchasing any of the Top 5 Ergonomic Chairs provided for you in this article.