Best Ergonomic Office Chair Ergoal One Review
What factors do you consider when shopping for a new ergonomic chair? Proper support to avoid back pain and other office-related health issues? Superior convenience? A distinct style?
If you answered yes to any of those questions, there's a good chance the best-selling Ergoal One therapeutic office chair has already crossed your path.
Ergoal has worked hard to distinguish themselves as one of the major players in the upscale office furniture market by claiming that their human-centered design approach does much more than provide immediate, short-term comfort.
Instead, it provides long-term support to ensure that today's modern worker remains healthy and well even after a strenuous shift.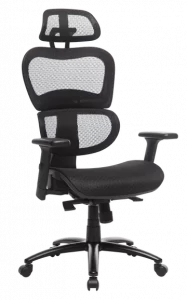 Design of an ergonomic and supportive S-curved frame
Mesh seat, backrest, and headrest are all made of breathable mesh.
Height, armrests, and self-adjusting lumbar support all have multiple adjustment points.
So far, a slew of positive customer feedback appears to back up those claims, with some reviews praising the Ergoal chair's exceptional back and neck support and others extolling the beauty and aesthetic appeal. We had to find out for ourselves:
Can any ergonomic chair truly be that good?
We decided to investigate this chair further to find out. This Ergoal One review will give you our unbiased thoughts.
Assembly
During our research, we were pleased to discover that the assembly process was nearly as simple as it could be.
The chair comes with all of the pieces and screws you'll need to assemble it, as well as simple instructions.
The entire assembly process takes about 20 minutes from start to finish. But if you're already handy with a hex key, there's no reason you couldn't beat that time by a few minutes.
Ergoal One Chair Review Concept
Ergoal's products are designed to cater to the way humans interact with their surroundings, taking a therapeutic approach to ergonomic design.
However, just because the brand is primarily concerned with proper posture and healthy sitting does not imply that they have forgotten about making their chairs look good.
The way the backrest is designed to hold the back in its natural S-shape may be for your comfort rather than your sense of style. But, let's be honest, it does give the Ergoal One a distinct appearance.
When combined with the svelte-yet-sturdy frame and mesh back, you've got a striking piece of furniture that will look right at home in any modern office space.
Furthermore, we appreciate that the company provides us with seven different color combinations to experiment with.
Personally, I prefer the blue chair with black backrest, but you can also choose from black, red, orange, grey, or light grey with a chrome or black base, all of which look equally impressive.
Dimensions
The Ergoal One ergonomic chair has a weight capacity of 300 lbs as recommended by the manufacturer.
While this does not necessarily make it the largest chair on the market (the Ergoal Comfort Plus has a weight capacity of 400 lbs), it does indicate that this substantial seat can stand on its own as a solid option for most people, including some big and tall users.
You may also be interested in the following dimensions:
17.91′′-21.85′′ Seat Height
20.87′′ Seat Width
17.82′′ Seat Depth
Seat Depth: 3″ to 6″
Backrest Height: 26.38 inches
Total chair weight: 45 lbs.
Backrest recline angle: 117°
Comfort
As you can see from the dimensions above, the Ergoal One is large enough to accommodate some larger users while still allowing those of shorter stature to find a comfortable seating position.
However, proper sizing is far from the only advantage this one has in terms of quality comfort.
This design feature continues to be a big highlight for us, not only because it does a great job of keeping you cool when you're working away at your desk for long periods of time, but also because – as previously mentioned – it has that unique, S-shaped design.
Unlike other chairs that force you to cram your spine into an uncomfortable (not to mention unhealthy) C-shape, the Ergoal One helps to keep your spine in its natural position.
As a result, it relieves pain and pressure, making it an excellent choice if you suffer from back pain caused by prolonged sitting.
Aside from that, the elastomer mesh seat adjusts to your sitting style, providing ample comfort and additional support.
The seat also has the crucial waterfall design, which prevents your legs from pressing against the seat edge.
Seats without this type of sloped edge tend to restrict your circulation, which is a major contributor to that tired, sluggish feeling that can set in as you spend more time in your chair.
As a result, if you usually need a nap around mid-afternoon, this one might be a good option to help you stay alert, awake, focused, and productive instead.
While we've made much of the Ergoal chair's S-shaped backrest, it's far from the only thing it has going for it in terms of ergonomics.
Along with that backrest is an innovative, auto-adjusting lumbar support feature that adapts to your individual back shape and responds to how you sit. As a result, no matter what tasks you have to complete, you will always maintain good posture.
However, for some people, the lumbar support is too low. In that case, a cushion for mid-back support can always be added.
In addition, the breathable mesh backrest can recline up to 117 degrees to help you find a more comfortable position.
Once you've found the right position, a simple locking mechanism keeps it in place.
Then there's the much-lauded adjustable headrest, which can be moved to several different positions and is said to work wonders for relieving tiredness and soreness in the neck and shoulders by current Ergoal One owners.
The 3D adjustable armrests can also be moved up and down, back and forth, and side to side.
Though it's obvious that 4D armrests (which can also move left to right) would be preferable, 3D offers a lot of freedom and flexibility, so we're not going to penalize Ergoal too much for that.
Finally, we would be remiss if we did not mention that the seat height can be adjusted by several inches.
This, like all the other adjustable components, can be easily managed from a seated position, so you don't have to waste time getting in and out of the chair to find a suitable spot.
Simply sit where you are and use the convenient controls to find your ideal seating position in seconds.
Ergoal puts the products through extensive testing at ISO-certified manufacturer laboratories and proudly displays this process on the website to ensure that when you buy a new chair, you're getting one that will look good and serve you well for many years to come.
Construction and durability
The chair's slender appearance may not reveal much about its durability at first glance.
However, the Ergoal One's slim-line design conceals superior strength, implying that it can compete with much bulkier chairs.
Read More: Office Chair SIHOO